DOMINGOS CARVALHO DA SILVA

After the Second World War, as an afternmath to the "Week of Modern Art", a path-opening summary of events in literature, poetry, painting and music held in 1922 that gave Brazilian art in general its definitive identity cutting off the strings with European poets were divided into two groups. One group consisting of participants of the "Week of Modern Art" and some outsiders decided to follow the traditional form of poetry without, however totally abandoning certain characteristics that had been highly criticized by the followers of the 1922 event. The second group adopted fully understanding its meaning, and produced "prosaic" poetry which has long since been forgotten.

Poet Domingos Carvalho da Silva belongs to the first group as is evident in his first book published in 1943, BELOVED IFFIGENY, a carefully thought-out poem with strong thematic and formal ties with the 1922 philosophy.
In 1945, with his DEAD ROSE, Domingos Carvalho da Silva together with Bueno Rivera, who made a sucessful debut in 1944 with SUBMERGED WORLD, opened a new path in Brazilian poetry based on Portuguese poet Fernando Pessoa (at that time recently discovered by the Brazilian intellectuals) and described by Domingos Carvalho da Silva in his presentation at the 1rst. Poetry Convention in 1948, in São Paulo, as the "Generation of 1945". Victor Alegria, The Publisher
From: SILVA, Domingos Carvalho da. Selected Poems; Poemas Seleccionados; Poemas Selecionados chosen by Victor Alegria. Brasilia: Thesaurus Editora, s.d.

APOCALIPSE
Por que a lua é branca e a noite
é simples anúncio da aurora;
e porque o mar é o mar apenas
e a fonte não canta nem chora;

e por que o sal se decompõe
e são de água e carvão as rosas,
e a luz é simples vibração
que excita células nervosas;

e porque o som fere os ouvidos
e o vento canta na harpa eólia;
e porque a terra gera os áspides
entre a papoula e magnólia;

e porque o trem já vai partir
e o corvo nos diz never more;
e porque devemos sorrir
antes que o crepúsculo descore;

e porque ontem já não existe
e o que há de vir não mias virá,
e porque estamos num ballet
sobre o estopim da Bomba H;

não marcharemos contra o muro
das lamentações, prantear
a frustração de tudo o que
sonhamos ousar, sem ousar.

Títeres mudados em gnomos,
enfrentemos o Apocalipse
como pilotos da tormenta
entre o terremoto e o eclipse.

Vamos dançar sobre o convés
enquanto o barco não aderna:
vamos saudar o sol que morre
e a noite que vem fria e eterna.

Vamos zombar deste universo
em nossos olhos refletido;
quando os fecharmos, será como
se nunca houvesse existido.

Vamos crepitar entre as chamas
nosso último arrebatamento;
porque amanhã seremos só
um pouco de cinza no vento.
(De À MARGEM DO TEMPO, 1963)

APOCALYPSE
Translated by John Nist

Because the moon is white and the night
is a mere herald of dawn;
and because the sea is just the sea
and the fountainhead does not sing or wail;

and because salt desintegrates
and roses are made of water and carbon,
and light is only a vibration
that excites nervous cells;

and because sound affects the ears
and the wind plays an Aeolian harp;
and because the earth generates asps
among poppies and magnolias;

and because the train is about to leave,
and the raven is croaking NEVERMORE;
and because we must smile
before twilight fade away.

and because yesterday no longer exists
and what is to come will come no more,
and because we are dancing a ballet
on the trigger of an H bomb;

we will not march to the Wall
of Lamentations, in order to mourn
for the frustration of everything
that we dreamed to dare, without daring.

Puppets changed into gnomes,
let tus face the Apocalypse
like helmsmen in the storm
between the earthquake and the eclipse.

Let us dance on the deck
before the ship settles;
let us greet the dying sun
and the coming night, cold and eternal.

Let us laugh at this universe
reflected upon our eyes;
when we close them, the world will be
as thought it had never existed.

Let us crackle among the flares
ou last ecstasy;
because tomorrow we will be only
a bit of ashes in the wind.
----------------------------------------------------------------------------

POEMA EXPLICATIVO

Inúteis são os vôos. Inúteis são os pássaros.
Silenciosas sombras tudo extinguem.
Como as vagas de um mar longínquo e frio,
são de inúteis palavras estes versos,
pois o calado tempo esmaga tudo.

Moro num rio inútil que caminha
entre margens de musgo e subalternas
pontes e águas que refletem
estrelas, luminárias, desencanto.

Os peixes não obstante já não dormem.
São inúteis os sonhos e as amarras
que nos prendem ao cais.
E o sangue que nos leva
em artérias elétricas de desejo.

Já somos todos poetas — e a poesia é inútil —
antepassados simples de um futuro
remoto onde seremos sinais na rocha, apenas.

Germinará o trevo entre os alexandrinos
e nenhum pássaro compreenderá o sentido
das páginas dispersas sobre a areia.

Estas palavras nuas se transformarão
em pó, em lodo, em traças e raízes.

(De PRAIA OCULTA, 1949)

EXPLANATION

Translated by Leonard S. Downes

Useless are the flights. Useless the birds.
Silent shadows creep over all.
Like the waves of a cold and distant sea
are de useless words of these verses,
since silent time consumeth all.

I live in a useless river which flows
between banks of moss and under
unimportant bridges, whose waters
reflect the stars, stree-lamps, disillusion

The fish, however, sleep no more.
Dreams are useless ant the ties
which moor us to que quays.
Blood only bears us on
in electric arteries of desire.

All we poets — and itself is useless —
are rude forefathers of a future so remote
that we shall be no more than marks upon the stone.

Darkness shal germinate among the alexandrines
and no bird know the meaning
of the pages scattered ont the sands.

These unpretentions words will turn
to dust, to moth, to mud and roots.
---------------------------------------------------------------------------------

TEORIA DO POEMA

Este poema há tanto tempo morto
sob o meu chão, renasce como um grito
de labareda exausta, água secreta,
e no papel projeta o seu caminho.

O asilo do mar procura o rio
que cedo abriu a porta de sua casa
ou sepulcro onde estava repartido
e no rumo da foz cava uma estrada.

Que rios passam sob o chão do poema
que no papel escorre como as águas,
como as águas é fonte e, como as águas,
é o eu nele inventamos e mais nada?
A mesma força que impulsiona o poema
abriu a rua aos rios e os arrasta
pra onde vão rimar sua discreta
língua de signos em estâncias de algas.

Que inventamos no poema? — A manhã clara
de frágil transparência, o amor perdido,
aqueduto de areia e de palavras,
coisa móvel e morta como um rio.

Inventamos o tempo que dá às rosas
l´espace d´un matin, a suicida
amante do troiano, a angústia oca,
o never more, a solidão vazia.

No mar renasce o poema em arco-íris
ou nuvem que alimenta o cio eterno
da terra, que gerou no doce inferno
do ventre escuro o girassol e os rios.

Eterno ou transeterno, ardente ou frio,
é transitório sol e deixa a marca
na inconstância das águas este rio
que a si mesmo cavalga na jornada.

(De VIDA PRÁTICA, 1976)

THEORY OF A POEM

Translated by Raymond Sayers

This poem which has so long lain dead,
beneath my ground, is reborn like the cry
from an extinguished flame. It is a secret water
that traces its path upon this paper.

The sheltering sea seeks the river
that had early opened the door of the house
or supulcher by which it was divided.
Moving toward its mouth it digs its road.

What rivers flow beneath the poem
that drips like water on the paper?
And like these waters is it a source? Like them
is it what we invented in it and nothing more?

The poem is moved by the same force
that opened a way for the rivers, dragging them
where they will ryme their discreet
language of signs in beds of seaweeds.m

What do we invent in a poem? The clear morning
with its fragile transparency, the lost love,
the aqueduct of sand and words,
a thing that is mobile and dead like a river.

We invent time that gives the rose
l´espace d´um matin, and her who loved
the Trojan and died a suicide; the hollow anguish
and the nevermore, the empty solitude.

The poem is reborn in the sea, in rainbow
or a cloud that feeds the eternal rutting
of the earth, the creator of sunflowers and rivers
in her dark womb´s sweet inferno.

Eternal or transeternal, burning or cold,
this river is a transient sun leaving its
mark on the inconstancy of water, this river
that bestrides itself in its day´s journey.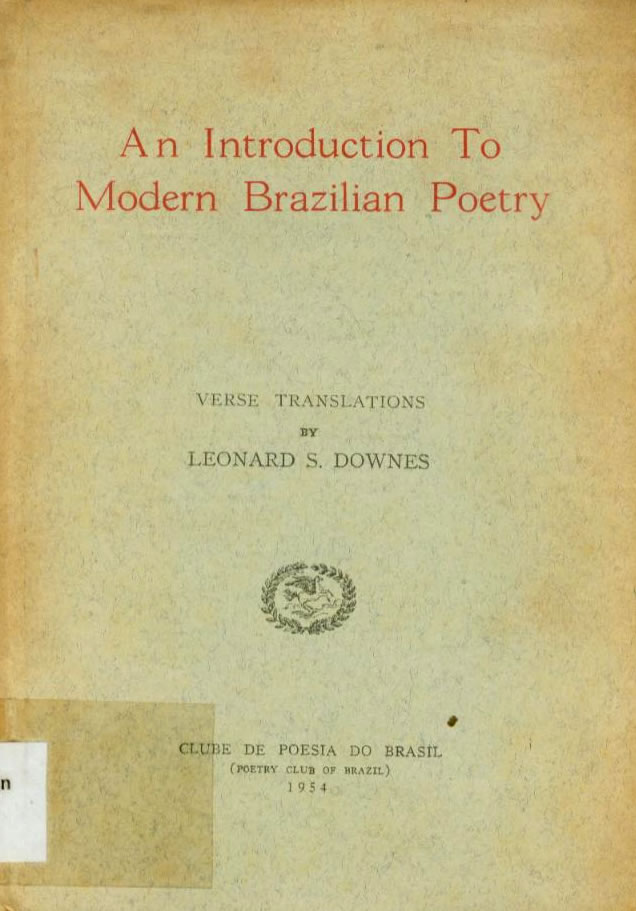 AN INTRODUCTION TO MODERN BRAZILIAN POETRY. Verse translations by Leonard S. Downes. [São Paulo]: Clube de Poesia do Brasil, 1954. 84 p. 14x20 cm. " Leonard S. Downes " Ex. Biblioteca Nacional de Brasília
LYRICISM
She climbed the mountain height
with a rosebud in her hand.
From afar she saw the world
with a rosebud in her hand.
From the cliff herself she hurled
with a rosebud in her hand.
She was buried yesternight
with a rosebud in her hand.
Página publicada em novembro de 2008; ampliada e republicada em agosto de 2015